Crazy fun for everyone at
Poole Park Crazy Golf
If you're looking for some low cost fun in a beautiful setting, come on down to Poole Park Crazy Golf, the South Coast's best 12 hole crazy golf course course. We've also got the only traditional 18 hole grass putting green in Dorset.
Why not bring your friends and family and take on our 12 surprisingly difficult holes - maybe show the grandchildren just how good you are with putter in hand!
Age is no barrier so if you're looking for tough competition, or just a bit of fun, we look forward to seeing you.
You can find us right next to the car park near The Kitchen and Scoops, near the Kingland Road entrance to the park
Contact Us: 07971 434876 info@pooleparkcrazygolf.com
Opening Times
Winter 2019:
We're closed now for Winter, and the course will be re-furbished for 2020.
We'll be next open for the February 2020 half term every day from Saturday 15 February to Sunday 23 February 2020.
Please Note that our other course, Sandbanks Crazy Golf, is open weekends only throughout the Winter, weather permitting, (and during the Christmas hols!)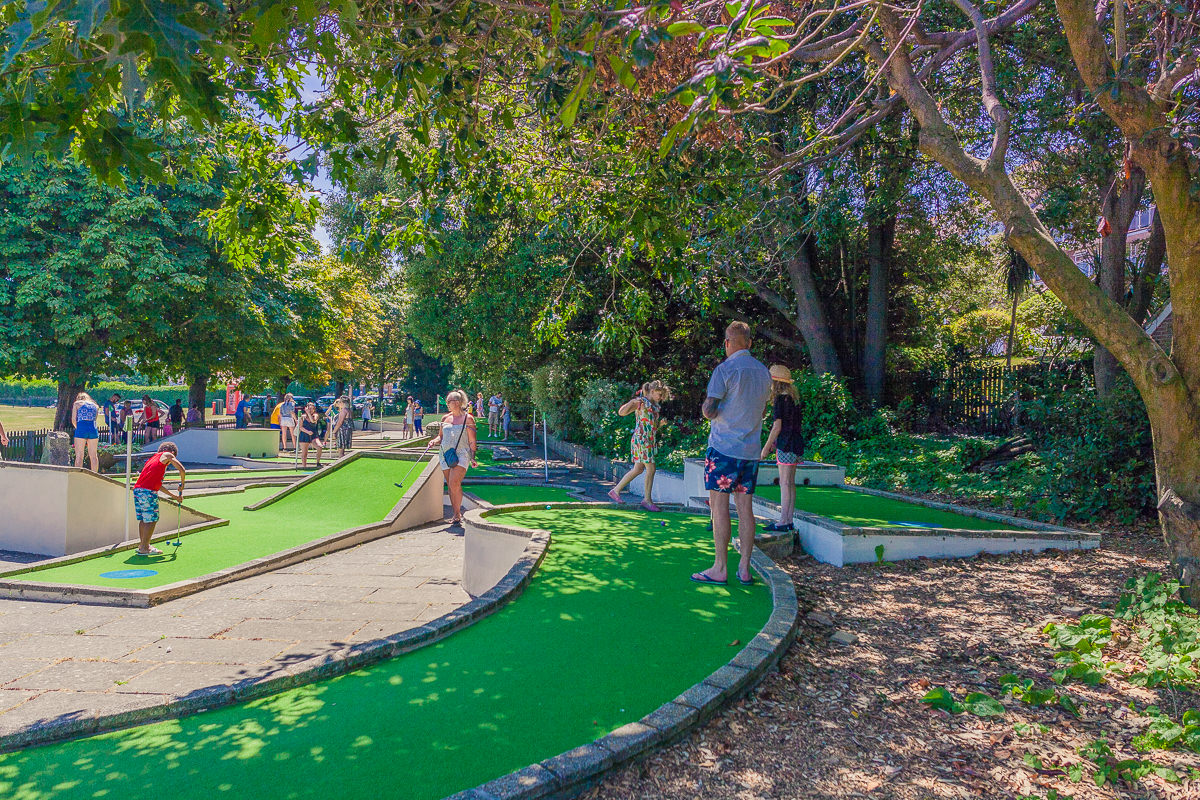 Location
Poole Crazy Golf Course and Putting Green is located next to the fountain and car park near The Kitchen and Scoops, and close to the Kingland Road entrance to the park
Postcode: BH15 2SF
Call us for directions: 07971 434876
Special Offers
Submit the form below and we'll send you an up to 35% off voucher!
Groups & Events
Poole Park Crazy Golf provides the perfect opportunity for a fun, yet competitive game, for everyone from the office, factory, school, or club.
Great deals for everyone, why not give us a call to discuss: 07966 481874 or e-mail us: info@pooleparkcrazygolf.com
Poole Park Crazy Golf are delighted to offer the course for charity events, please call Tony on 07966 481874 to discuss.
1. Going round the bend Par 2
A tough first hole, you need a very firm push ideally to bounce off the right hand side near the top!
2. Dropped a clangerPar 4
Tricky first shot to the tubes, relatively small green for easy finish.
3. Double jeopardy Par 2
Make sure you hit to the right of the first ramp, and strike confidently for power.
4. A bridge too farPar 2
Don't be tempted to overhit this one, keep calm and relaxed.
5. Ramping it upPar 3
A firm hit dead straight does the job with relative ease!
6. Rise to the occasionPar 3
Another tough one, concentrate, hit firmly and straight.
7. We're all going downPar 2
Best attempt for a hole in one is to run your ball round the outside edge, make sure you don't go off piste!
8. Pinball wizardPar 4
A firm strike up the right hand side, then ask your mates who Roger Daltrey is. If the say Who, they've got it.
9. Whirly gigPar 2
Straight through the loop-the-loop and not too hard, or you'll have a tough 2nd shot.
10. Down and outPar 2
Relatively easy one, but keep on your toes.
11. the rockPar 2
Don't get stuck between the rock and a hard place...
12. Homeward boundPar 2
Should be an absolute doddle. Do not miss your hole-in-one to finish!